Nowadays, the value of professional Website Design and development services in Canada has gone more imperative than ever. It takes care of virtual rankings and conversion rates for a constant profit. When users love to interact with your website, you earn positive impression which makes your rest sales conversion process easy. One positive user experience earned today equals to 100 times your current ROI in future – a tremendous blow to your profit.
As an ideal Web Design Company of Canada, we offer you that competitive edge with our SEO friendly Website Design services. We help you maximize your first impression with users and stand tall amongst your competitors' websites in the industry. With 75+ years of cumulative team experience, we know very well how to design a website to reach high-value users and transform them from leads to customers.
Enhance your web presence with our bespoke web design service Ask us How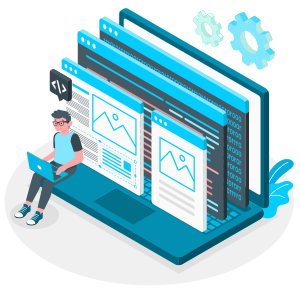 Our Design Mantra
As an experienced Professional Web Designer, we follow CLASH methodology to design websites.
C
Clarity
We design your website with your purpose crystal clear in mind. From lead generation to making online sales, the design varies accordingly. With your purpose we anticipate well what your prospects would be looking for the moment they land on your website.
L
Layout
Then we give it a layout that heavily favors you for audience retention. For example, we mostly follow F-shaped pattern with major focus on left, upper left and top of your screen. A right layout always helps users to go through your content naturally. If done right, the outcomes are well-experienced in terms of audience engagement and conversion of your sales page.
A
Attention
Attention goes where energy flows. Keeping this universal law as one of our metrics, we use best design techniques and extra visual appeals to develop an emotional connection with your audience.
S
Simplicity
Simplicity has always been the philosophical thumb rule for displaying ultimate business sophistication. That's why as an expert Website Designer of Canada, we design your website in simplest manner by incorporating easy-to-read texts, light images and clear navigation menus. It helps you clearly communicate your ideas with visitors and navigate them from Point A to Point B with ease.
H
Hierarchy
There are five major elements for visual hierarchy – size, color, contrast, alignment and whitespace. We use big elements and bright colors to accentuate important messages for more attention. It is also followed by strategic placement of elements and whitespace wisely and correctly to create perfect visual hierarchy for organic client retention.
Create a performance-driven website
Will my website look same on all computers?
Yes, we make sure that by handling a lot of factors such as loading speed, simple architecture, browser compatibility, etc. This makes sure your visitors will have a great user experience on your website irrespective of internet speed, browser type and size of thir computers.
What is CMS?
A Content Management System [CMS] enables users to edit their website without any knowledge of coding. You can make small design changes from an internal dashboard with ease. We help our clients to manage their websites by making them familiar with CSM before delivery.
Will my site work on all types of phones and iPads?
Yes, we employ responsive website design for optimal viewing experience on any type of phone. With auto resizing, panning and scrolling, your website will accommodate all screens for easy reading and navigation. We keep your users experience on high priority always.
What is web hosting?
In order to publish your website, you need a web hosting service. A good hosting service provider makes sure your website is up and running 24/7 without any technical glitch. If you are new to all these, as a customer-centric web development & design Consultant, we will guide you to choose the best hosting service provider for your requirement.
Will my site be SEO friendly?
Yes, we will make your website fully accessible and indexable by all search engines so that you get more traffic. We use descriptive filename and Alt Texts for images. We also add transcripts to your content in Audio and Video format leaving no chance of positive indexing behind. In short, we build your site SEO friendly to make a search engine's job easy.
Request a Quote
Want to create a website that drives results and customer satisfaction?
Contact Us online or give us a call on 4379-BCLOUD and one of our strategist will get back to you within 12 hours.