Web Application Development is the key to achieve online presence on user-preferred device with ease. You get cross platform compatibility thereby ensuring a comfortable browsing experience to your customers. With hassle-free updates on server side, you update user's side without any problem. An app-ready business model helps you propel your business through market hurdles to a large potential audience.
At BCloud, we focus on developing such customized web applications with a cost saving approach. Our Web application development in Brampton focuses on back-end data base connection, rich user experience, and ability to generate results to browsers. Along with these key functionalities, we add personal security algorithms to make it impossible to crack by unwanted hackers.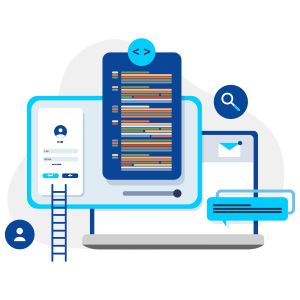 We work on best Frameworks
Our Mantra
We follow CAT ACT to design your web application at a superior level.
C
Catalogue Management
Our Professional Web App Developer addresses all major challenges, thereby, ensuring you an easy-to-manage and efficient product catalog development. We integrate highly scalable catalog management solutions such as ERP, PIM, e-commerce systems, etc. assuring seamless product display and categorization touching every aspect of your customers' expectations.
A
Analysis of Business
Our Web App Development Services undergo an in-depth feasibility test, & market research to eliminate development errors. Simultaneously, we also cultivate an environment to accelerate the development process featuring impeccable coding standards followed by rigorous testing procedures. Our business analysts will take your demands on consideration and confirms the budgetary requirement to develop the product.
T
Technical Research
Technical research is a segregated part of our Web App development Firm in which we map the initial requirement of your project. In this phase, we plan you a perfect project architecture by introducing you to a selective range of right front-end and back-end development frameworks.
A
Architecture Design
Once you choose a framework, our Web App Development Consultant walks you through the software architecture. We will introduce you with a variety of options and brief you so that you can make an informed decision befitting your requirements.
C
Code
Our code in three-steps- designing, front-end, and back-end development. In the designing phase, our Professional Web App Developer will develop the UI, decide the color scheme, and create everything relevant to the web application's appearance. Our front-end development includes API integration, UI designing, security integration, functionalities development, and much more. Likewise, Back-end web development takes care of database handling, API development, session management, etc.
T
Testing
We follow both automated and manual testing to make sure your application is fully functional and bug-free. With advanced automated testing tools like selenium & cucumber, we conduct Unit Testing, load testing, stress testing, performance testing, and many more. In manual testing, we follow alpha testing, beta testing, user acceptance testing, pilot studies, etc., to ensure the product pass all criteria via human perception.
Convert your idea to architecture
FAQ about Web application development in Brampton
What is the best way to develop web applications?
The best way to develop a web application is through running a strong requirement analysis and understanding the crucial requirements of end-users. Your app must touch all essential parameters such as captivating designs, fully functional frameworks, and an optimized database. Above all, you need the support of a Web App Development Company that follows an agile development method.
How do I host a Web application?
There are various ways to host a web application. You can subscribe to a web-hosting platform at an affordable cost. However, if you already have an existing web hosting plan, consult your Web App Development Consultant to ensure the platform is efficient enough to host a web app. Other ways to host a web application include GitHub pages, cloud storage services, free backend app hosting platforms, etc.
What is the difference between Web Application and Mobile Application?
A web application is a responsive and cross-platform enabled app that is accessed via an internet browser or any other internet-enabled device. Overall, they give you the feel and look of a mobile or OS-based app. However, you don't have to download or install a web app to use them. Mobile applications, on the other hand, are specially designed to run on a specific platform like iOS, or Android. Besides, you also have to give access to your system resources like GPS, camera, gallery, etc.
Can I review the code during the development process?
Although we send you weekly reports, you can also review the code at your convenience. Our Web App development Firm will assign you a dedicated project manager whom you can consult anytime you have a query or requirement to fulfill.
How many design revisions do you provide?
We provide unlimited design revisions during the planning and ongoing project development process. After the development process, we offer 90 days of free support, during which you can ask our Web App Development Consultant for any changes you want in your product.
Can we manage our website support independently?
Yes, we enable you for independent operation, if you like. Once our team of Web application development in Brampton completes the project, you have full independence to manage, host, or upgrade the product, as you want. We perform the necessary Knowledge Transfer at your will.
Get a full-fledged web app delivered on time