In a highly competitive industry, success only comes when organizations embrace initiatives and early innovation. However, staying in the race demands a potential project management office. However, most organizations often struggle to develop and maintain excellent Project Management Office (PMO). Moreover, Project managers have the responsibility to establish an inviting work culture and promote coordination among superiors, peers, subordinates, and stakeholders.
Bcloud specializes in transforming strategy into reality. We help organizations with project management services like strategic planning, execution, recruitment, resource planning, development, and onboarding.
The success of a project depends upon the efficiency of top-level managers. However,other companies often poach well-performing manager, leaving you with fewer options. At Bcloud, we will provide atop-class PMO staffed with project managers holding all the necessary skills to execute a diverse range of project portfolios. We also offer flexibility in our model. Meaning, you can scale your PMO up or down or shift it to other direction as your business requirements.
Our Project Management Office (PMO) solutions not only invites discipline and efficiency but also incorporate internal knowledge and influence to your team. We will weave our expertise into your organization's fabric, and continue with your success through ongoing support. We will help you develop and improve your project management framework, thereby allowing you to execute strategic projects portfolio and deliver tangible and sustainable outcomes.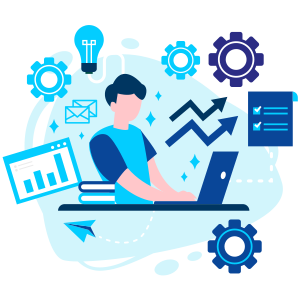 Need to get your product to market without waiting any further?
Benefits of Project Management
1. Get more experienced personnel
Qualified managers bring their best practices on the table. However, most firms are not eager to share their information with their competitors' i.e. in-house managers of your company. With outsourcing qualified Project Management Office (PMO) services, you can leverage best practices of independent project managers. Apart from getting the most out of an individual, you also receive the collective experience of the contracted firm.
2. Lessen administrative burden
If you have a one-off or ad-hoc project, then hiring an internal Project Management Office (PMO) staff adds more burden to your administration. Further, it will costs you more for hiring and retaining a separate team. Outsourcing project management allows you to choose customized services as per your business model, thereby reducing your financial and technical burden in half.
3. Give unbiased definition and objectivity to project
Personal interests, office politics, and relationships often muddle up a project. It's practically impossible for an organization to keep a project separate from interpersonal conflicts and biases. Outsourced project managers brings a definitive vision and mission that strictly revolves around developing a project to it'sfull potential.
4. Cost-effective
Finding capital to fund your projects amidst a shrinking budget and ever-growing competitionoften become a struggle. Simultaneously managing financial resources and hire specialized project managers can take a toll on your budget allocation. In such a scenario, hiring project management services on a per-project basis can be a liver saver.
Do you have an active project that lacks momentum?
Then contact us to get your project back on track.
Our Mantra
Planning, Initiating, Execution, Monitoring, Control and Closing
P
Planning –
This is the phase where we create the blueprint of your project, guiding you from the start to the end. The blueprint gives you a more detailed view of the project's scope, listing all the resources it requires to complete the project. We break down your project into milestones, allocate budget, and estimate time for completing each milestone. We also plan a robust communication strategy to keep your stakeholders updated and involved.
I
Initiating –
In this phase, our management team starts with developing the raw outline of your project. Then we conduct a feasibility test by considering your ultimate project goal, project's scope, risk assessment, and other relevant factors. Once completed, our project manager (PM) will inform you about the estimated budget and completion time of the project.
E
Execution –
In this phase, our project manager gives the green light to kick-start your project. Our project manager also handles resource allocation and staffing, ensuring proper execution of each milestone. Our PM will send frequent updates about the project's status and how far we are to complete it. You can directly contact the project manager if you want any more information or to raise a concern.
M
Monitoring and Control
In this phase, we give physical outcomes to the initial planning process. We closely monitor the project and ensure its quality is not compromised in any way. We retrieve daily data about your project and evaluate its quality. Then, we enforce necessary corrective measures (if found any) before we move on to the next step. Overall, this phase keeps the project on track.
C
Closing –
Once the project is completed, we send it for approval from you and your stakeholders. During the phase, our manger remains in close contracts with suppliers, consultants, and vendors, ensuring our team never runs out of resources. Upon receiving approval from all parties, we prepare the final project report and prepare ourselves for the project launch. Then we develop a post-production plan, where we conduct troubleshooting and maintenance of the final product.
What is Change Management in Project Management?
Change Management focuses on helping employees to adapt and utilize organizational changes in their day-to-day work. The process comprises three steps- Individual changes, organizational changes & Enterprise change management capacity. Individual changes stress on fulfilling the special needs of individuals such as coaching, skill development, etc. Similarly, organizational change deals with identifying individuals 'who are supposed to change' and 'how to change them'. Consequently, with Enterprise change management capacity, one can ensure that the Change Management process is applied effectively and consistently.
What is Agile Methodology in Project Management?
Agile methodology is a process in which a project is broken into several iterations. In other words, it comprises a set of incremental steps from the point of start to the end of a project (planning, execution, and evaluation). The process starts with initial planning, where clients discuss the end-results of a project as well as clarifies all project-related doubts to the customer.
What is Cost-Benefit Analysis in Project Management?
Cost-benefit analysis is a technical tool used for measuring the ultimate project's value to its production cost. At the initiation phase, project managers run a cost-benefit analysis to justify the project's cost to the business value. The manager prepares a list stating the project expenses, and tangible benefits, then calculate the ROI, IRR, NPV, and the payback period. To know more about this topic, you can schedule a meeting with our project managers.
What is Cost Management in Project Management?
Cost management is a process in which the project manager estimates the project's cost and ensure the project doesn't go over budget. Once the cost is ascertained at the task level, the manager moves towards developing the final project budget. The process involves baselining the costs and developing a set of actions to keep the project on track. Upon completion of the project, the predicted cost is compared with the actual cost to create a benchmark for future projects.
What is Cost Variance in Project Management?
Cost variance is used to understand the financial performance of a project. It is the difference between 'budgeted cost of work performed (BCWP)' and the 'actual cost of work performed (ACWP)'. The aim is to match the ACWP with BCWP. However, the ideal cost variance may come negative or positive depending on several factors. Need an estimated cost variance for your project? Contact us for a free consultation.