Today mobile apps are going through the same phase that websites went through fourteen years back. With 80% traffic coming from mobile, it has gone imperative to have a mobile app of your business more than ever. Having a mobile application gives you a massive users base inspired by mobile browsing. The same rule applies to all types of market- regional, national and international. When users feel it easy to browse your products or access your service through an app- that a web browser fails to offer, you mint nothing but profit.
When the mobile app development booming, BCloud helps aspiring entrepreneurs like you to build robust mobile applications to stay ahead of competitors with ease. If you are into social marketing or e-commerce, then an app-ready business is barely essential.
Know more about Mobile App Development
Contact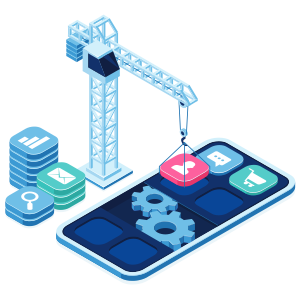 What we offer under Mobile Application Development
We develop three basic types of mobile apps
Know which type of App is the best for You
Our Design Mantra
We follow SWAT–UDT to create highly responsive mobile applications for your business.
S
Study
It's all about understanding the usage requirements of your target audiences. We analyze the characteristics of your end-users, followed by an in-depth demographic study, behavioral patterns, etc. In short, we lay a full groundwork, understanding the factors that motivate a user to make a decision.
W
Wireframing
Wireframing is a blueprint of your backend development process, created through efficient communication, and technical collaboration between professionals. Our team decides how to integrate your proposed features in the app so that it won't hamper its functionality and UI. Through wireframing, we address the limitations that your customers are most likely to face.
A
Assessment
In technical assessment, we try the wireframe's blueprint in a real-life scenario. We check app's feasibility by analyzing useful data via public APIs. Then we cross-verify the compatibility between your device's format with the platform you opted. In our final draft, we list all the features which are compatible with your opted device/platform.
T
Technical Prototype
After assessing the requirements, we create a prototype version of your app. The prototype allows you to check app's basic functionalities and features. You can share this prototype with your stakeholders for their feedback. This will give you a clearer idea about commonly agreed features to continue with and the scope for modification.
U
UI Design
In this phase, we concentrate on creating a vessel for your app. We focus on the appearance, brand-centric theme, and layout. Our team ensures the UI is user-friendly, it loads faster, and carries all the elements to attract your customers on the first go.
D
Development
It is a three-stage process. First, we develop core functionalities. Second, we incorporate them all along with other finalized features into your app. Third, we release the app to a group of users under a controlled environment for testing.
T
Testing & Deployment
This is the third stage of app development. Here, we seek a small group target audience to review your app for its functionality, performance, usability, security, and interface. Based on their feedback, we make changes and fix bugs before informing you about the final deployment. After your app's first launch, we continuously work on new updates in order to bridge any engagement gap between you and your users from time to time.
Understand More about Our Process
FAQ about Mobile Application Development
How much time would it take for the app to develop?
Usually, it takes around six months to completely develop an app. However, there are many ways to speed up the process. For example, rather than launching a full-fledged app, you can create an MVP and then add new elements in subsequent stages. Further, you can opt for component-based development or plan for an Agile and Sprint development. It's better if you talk to us in person to know more about your options.
How will I prevent it from falling in the stores?
Running a successful app is an ever-going process. Its continuous popularity requires your focus on in-depth market research, proactive users issues redressal, and constant bug fixation. From the early developmental stage to its post-launch scenario, we always keep your end-users in mind to come up with better plans naturally.
How will I secure my app?
Sadly, you can't do much about your app's security once it is launched. It entirely depends upon your Mobile Application Development team and what security measures they have taken during its development. We make sure your app goes through a comprehensive mobile app quality assurance (QA) test and an agile testing process before marking its presence in the app stores.
Should I have a Wireframe Ready?
Having a wireframe ready always makes the technical assessment much easier. Although we encourage it, even if you don't, this won't make any difference. As we already have that covered in our design mantra. Our team will present you with a wireframe before running a feasibility test.
How will I judge the success of the app?
Again, it entirely depends on what you consider as a success- no. of downloads or hours of usage per user or revenue generation. Once you set your expectation, it will make it easier for you to set realistic goals and follow goal-centric promotional activities. To know more about app promotion, you can contact our Mobile Application Development team.